At Bond Eye Associates we already include all these wonderful premium eyeglass lens technology products in a standard lens order. You will not have to become an expert in eyeglass technology to know that you are purchasing the best possible vision solution available. All of our standard orders include the following:
Digitally crafted lenses
Anti-Glare treatment
Impact resistant technology (polycarbonate materials)
Blue-light filter
High Index Lenses
Read more about these premium products below.
The manufacturing processes used to make today's conventional lenses were invented in the early 20th century. This method is not ideal for all lens prescriptions or for all frame designs.
Conventional lenses provide their optimum clarity through the optical center of the lens. In subsequent zones outside of the optical center, the optical performance becomes less and less. So, the further you look away from the center of your lens, the clarity of your vision diminishes.
For high prescriptions and progressive lenses, that have their near and distant vision provided by zones outside of the optical center, this effect is even more noticeable. This reduction of clarity is caused when light rays from the lateral surfaces of the lens are bent in such a way that they focus slightly in front of the retina instead of directly on the retina.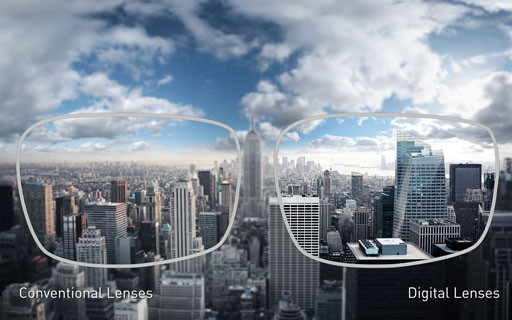 New Digital-Free Form lens manufacturing technology now allows manufacturers to create customized High Definition Lenses. This process involves modifying the entire back surface of the lens in such a way as to re-direct light rays from every direction of sight, to focus directly on the retina.
These High Definition Lenses optimize all viewing zones giving you clearer vision throughout your entire lens.  High Definition Lenses are six times more accurate than conventional lenses and the digital manufacturing technology can make your lenses even more personalized by taking into account your prescription, your frame measurements as well as your position of wear.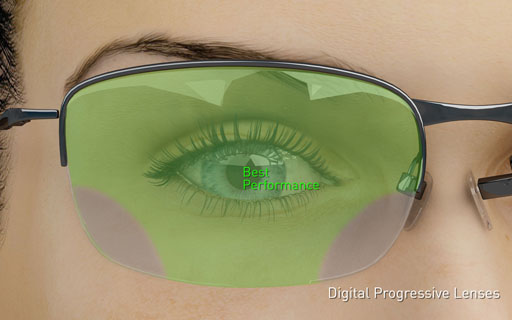 A good comparison for how you might see with digital lenses is similar to the difference you would see between a standard television screen with fewer pixels and a high definition television screen with many more pixels.
Progressive lens wearers especially enjoy even greater benefits from this improved manufacturing technology due to its ability to provide wider fields of clearer vision within all zones of power; near, intermediate and distance.
Who needs impact resistant lenses?
From kids on the playground to construction workers around heavy machinery, there is always the potential for standard lens materials, such as plastic or glass, to shatter, even from the impact of an airbag in an automobile accident.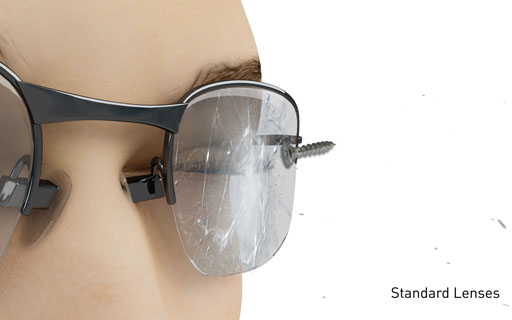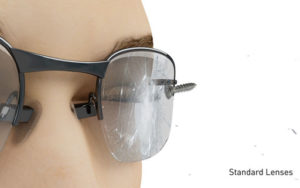 You can protect your precious vision with impact resistant lenses. These lenses are manufactured using an injection molding process which makes them stronger than standard lens materials and includes scratch resistance protection. Impact resistant lenses also protect your eyes from the harmful effects of excessive Ultra-Violet light exposure.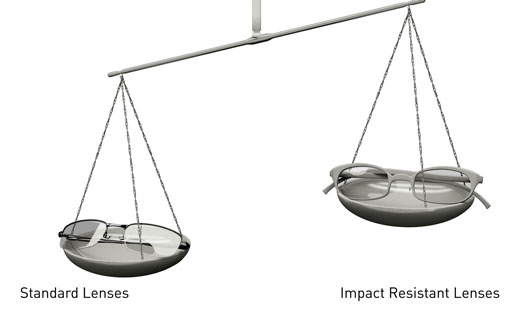 They are the most lightweight lens material you can purchase and may be thinner than your previous plastic lenses.
Unattractive, thick and heavy lenses are, for the most part, a thing of the past, with the advent of High Index Lenses.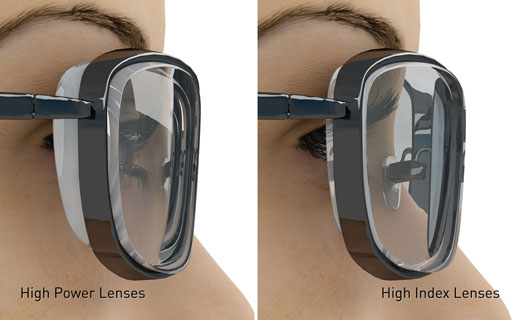 Recent advances in lens material technology can now make even the highest power prescriptions appear more attractive than ever before.
High index lenses provide the same vision as your old lenses but they will be lighter and appear much thinner and, because high index lenses are thinner, many more frame materials and styles will be available for your previously challenging prescription.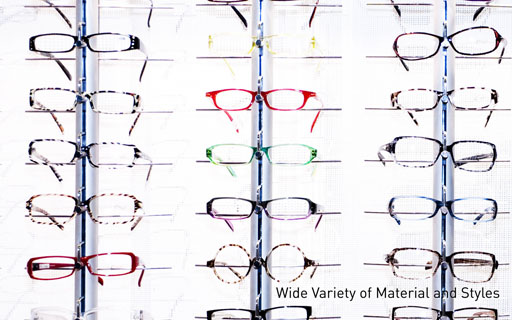 The performance of high index lenses is often complemented with the addition of the Anti-glare lens treatment to minimize reflections and maximize their cosmetic benefits.
Anti Glare Lens Treatment
Standard lenses can reflect up to 18 percent of light-causing glare and eye strain from sources such as fluorescent lighting, computer screens, and headlights. With Anti-Glare lens treatment, only 1% of light is reflected off the surface of the lens.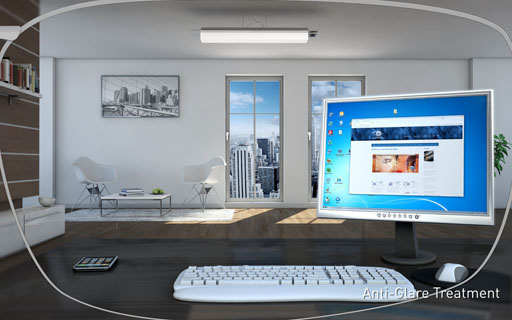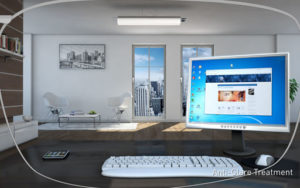 Anti-glare lens treatment makes driving at night safer too, as it virtually eliminates glare from oncoming headlights and streetlights. Overhead fluorescent lights and computer screens can cause glare and eye strain which will be minimized with this Anti-glare lens treatment.
Anti-glare treatment also eliminates light reflecting off the surface of your lenses. After all, you are choosing your frames to enhance your appearance. You want others to see your eyes and not be distracted by the glare reflecting off your lenses.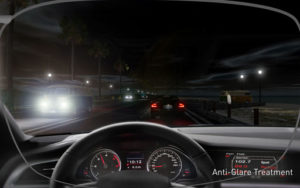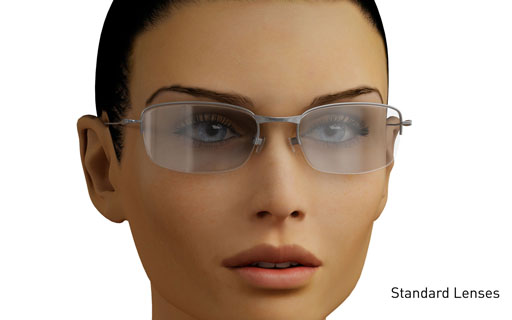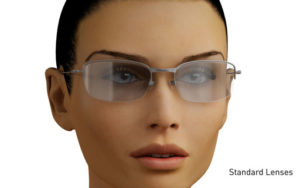 We offer the Crizal® lens by Essilor. Click here to learn more about the Crizal lens. Click here to learn more about Essilor. Lenses treated with Anti-Glare enhance the scratch resistant properties of standard scratch resistant lenses and will help repel water, fingerprints, oil and dust. This allows you to spend less time cleaning them… and a longer life for your lenses.