Laser surgery has become increasingly popular as an intermediate step between drugs and traditional glaucoma surgery.
The most common type of laser surgery performed for open-angle glaucoma is called Argon Laser Trabeculoplasty (ALT). The objective of the surgery is to help fluids drain out of the eye, reducing intra-ocular pressure that can cause damage to the optic nerve and loss of vision.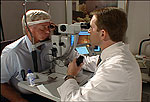 Bond Eye Associates has invested in an even more advanced laser system that has shown to do no harm to the patient's trabecular meshwork. This new technology is called MicroPulse Laser Trabeculoplasty (MLT).
MicroPulse laser trabeculoplasty (MLT) uses repetitive, low-energy laser pulses that are separated by brief rest periods. This "micropulsing" allows the trabecular meshwork to cool between laser pulses to prevent tissue damage. MLT reduces or eliminates laser treatment risks and collateral effects, and therefore can be repeated as needed.
Although your eye care professional may suggest MLT surgery at any time, it is often performed after trying to control intra-ocular pressure with medicines. In many cases, you will need to keep taking glaucoma medications even after MLT surgery.
who have been diagnosed with glaucoma based on thorough clinical history, examination and testing.
whose doctor has determined that MLT is appropriate for controlling their intra-ocular pressure
What to expect on procedure day:
An informed-consent form will be given to you for your review and signature, and all of your questions regarding treatment will be answered. To perform MLT, a special contact goniolens will be placed on the front of your eye to direct the laser beam to the angle. A drop of a topical anesthetic makes this comfortable.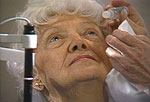 Typically, patients do not feel any discomfort during treatment, however if it does occur, it is minimal. Based on the laser wavelength used, you may experience some flashing lights during the procedure. If you move during treatment, there will be no harm to your eye, but it may lengthen the treatment time. At the end of the treatment, the goniolens on your eye will be removed.
What should I expect after treatment:
Your eye pressure will be checked shortly after your procedure and drops may be prescribed to alleviate any soreness or swelling inside your eye. For the rest of the day, your vision may be a little blurry. Due to the lens placed on your eye during treatment, it is common to experience a little irritation on the front of your eye for a few hours after treatment. This irritation is usually mild and lessened by use of frequent artificial tear-drops. Significant pain after treatment should not occur. If it does, contact your doctor. By the next day, the blurriness should dissipate. If it does not, contact your doctor. Intraocular Pressure (IOP) typically decreases over the next several months. Follow-up visits are necessary to monitor your eye pressure. While it may take a few weeks to see the full pressure-lowering effect of this procedure, during which time you may have to continue taking your medication, many patients are eventually able to discontinue some of their medications.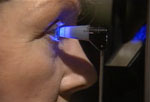 Tonometry is used to check your eye pressure
Following MLT, it is important for you to continue to see your doctor on a regular basis for continued monitoring and treatment of your condition. How soon and how often follow-up examination is required will be determined by your doctor based on your condition.
If you would like more information about this procedure you can make an appointment or contact the office for additional information.