Have headaches taken over your life? Unable to do the activities you love? Or spend time with family and friends? According to the British Journal of Pain, approx. 95% of people have experienced a headache sometime in their life (Weatherall, Mark 2015).  For some people, headaches are a part of their everyday life and can be quite debilitating affecting work, finances, personal and family life.  For others, headaches can be more of a nuisance. The first step to managing a headache disorder is to recognize that there is a problem and understanding that there are multiple treatments options to help take back control and start living life again.
Headaches affect everyone but are more common in women.  There are two types of headaches disorders: primary and secondary headaches.  Primary headaches are most common and consistent of three main types: migraine, tension and cluster headaches. Secondary headaches are often caused by underlying conditions and often do need immediate evaluation by a healthcare professional.  For instance, if you are experiencing "the worst headache of your life", this could be a life-threatening symptom and you need to go to Emergency Department immediately. Secondary headaches are very uncommon. The focus of this article will be on primary headache education more specifically migraines.
Tension and migraine headaches are the most common of the primary headache disorders. Tension headaches account for 60-70 % of headaches, while 15% are migraine in nature. Tension headaches typically are caused by stress, worry, or being tired. Symptoms are more generalized, involving the whole head, often affecting scalp, neck and jaw.  While migraines typically present on one side of the head/face, last longer and are more severe with regards to intensity.  The term migraine tends to be widely used by people when they are describing a headache and can be the most debilitating.  Hence, the prompt need for treatment and management of this type of headache disorder. First, it is important to give a quick overview of migraine disease process (pathophysiology).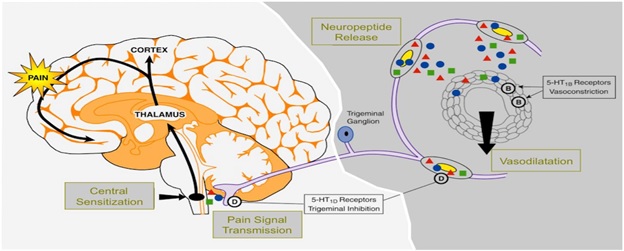 Understanding the pathophysiology of migraines can be confusing and complicated.  After ruling out possible secondary headache causes. providers will use the following migraine criteria tool to help diagnose and treat migraines. (Kaiser Permanente 2018):
Lasts 4-72 hours untreated/ aura may be present
Nausea/vomiting and/or light sensitivity
At least 2 of the following:

Pain is only on one side of the head/face
Pulsating quality
Moderate/severe pain
Aggravated by routine activity

No other cause identified
Migraines are classified as acute or chronic in nature. The choice of treatment should be dictated by the severity and rapidity of symptoms.  Prior to initiating a treatment plan, an evaluation of the 4 phases of a migraine needs to be assessed for each patient. This is imperative to understand, so the proper treatment plan can be developed.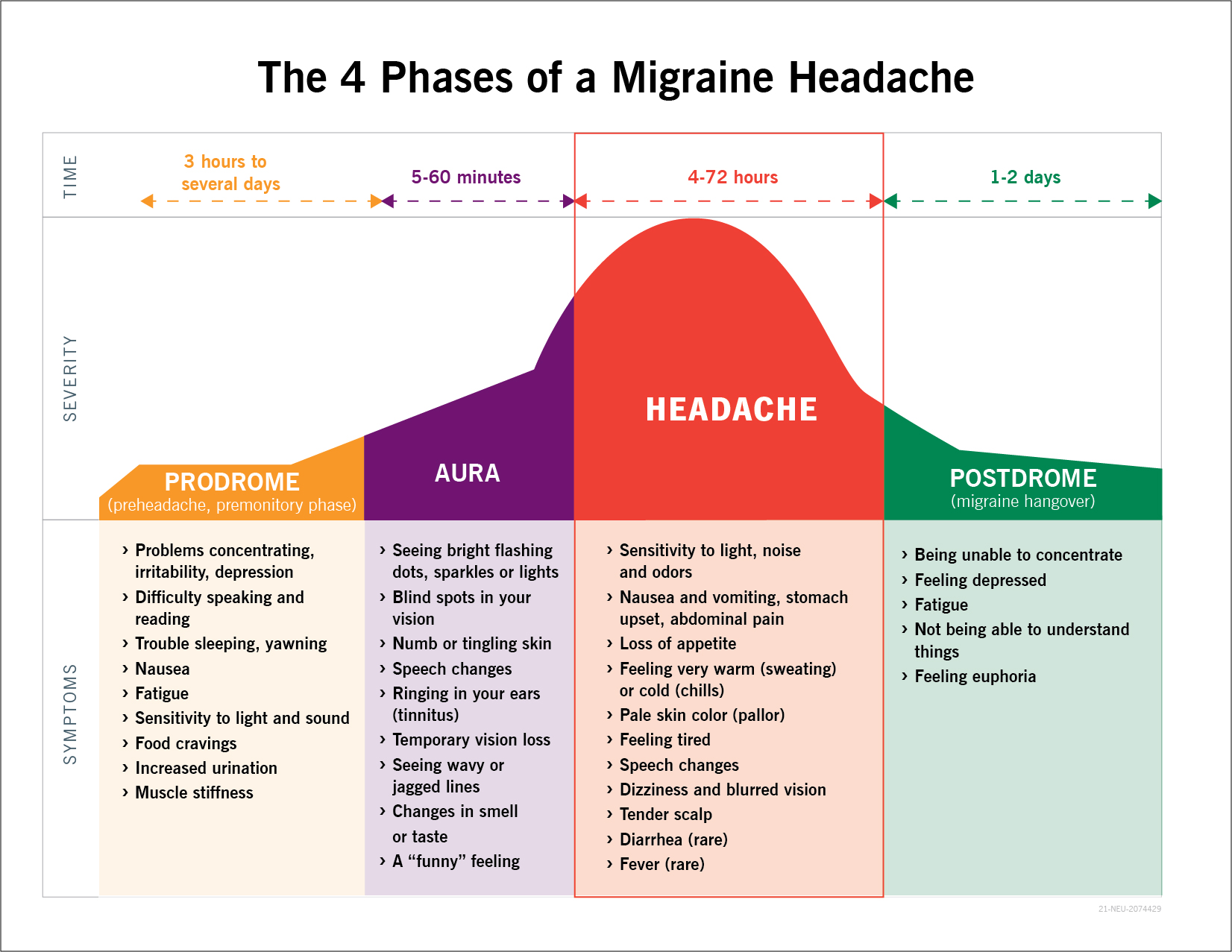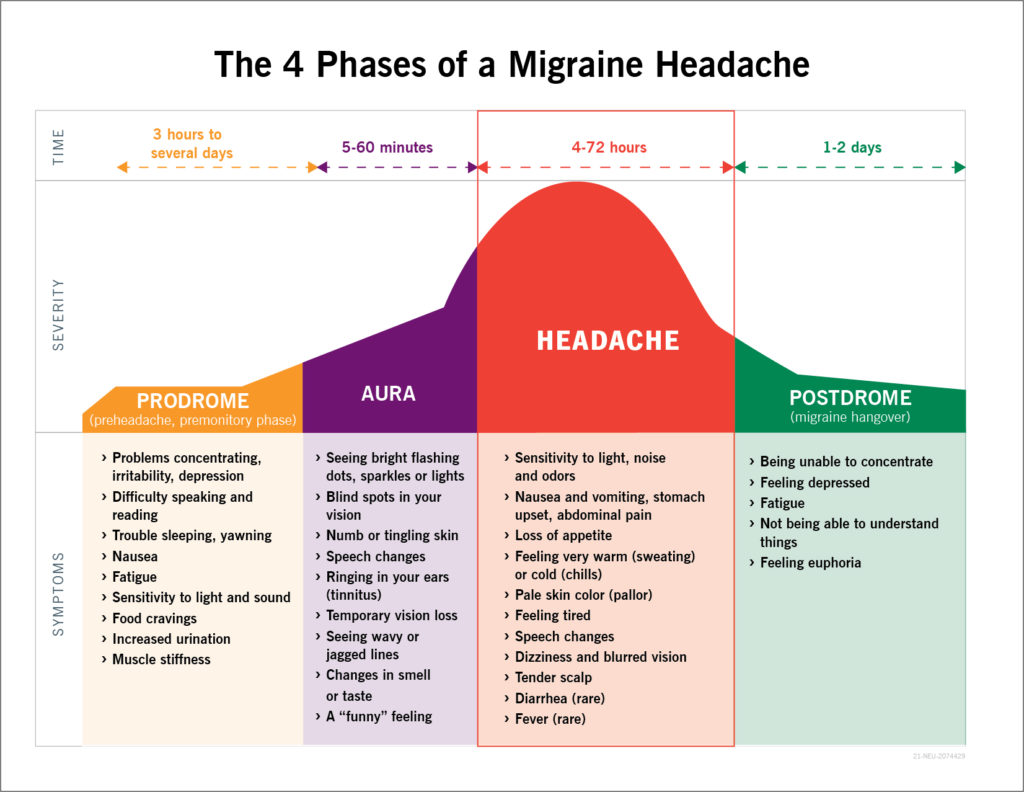 Treatment
Prior to initiating a treatment plan, a headache journal is one way a patient can provide an organized log of symptoms, frequency, intensity, and triggers into perspective.  Once the type is identified, a treatment regimen would be initiated.
Acute migraines are categorized by having less than 15 headaches within a month's time over a 3-month time period. Treatment options include:
1st line medication treatment recommendations (Kaiser Permanente 2018).
Triptans: Considered a "rescue" or fast acting medication, to relieve existing headache. Examples include sumatriptan, zolmitriptan, rizatriptan, naratriptan or frovatriptan.
Analgesics: Pain reliever and/or anti-inflammatory medication. Examples include aspirin, naproxen, diclofenac, acetaminophen or ibuprofen.
Calcitonin gene-related peptide receptor antagonist: Blocks the pain signal to the brain. Example: Rimegepant.
Implementing a combination of triptans and analgesics together have shown more effective relief of migraine pain.
If there is lack of response or overuse of triptans/analgesics, preventive medications can be initiated.  This is often referred to as prophylactic treatment. The goal is to reduce frequency, intensity and medication overuse.  In other words, prevent the migraine from developing.
1st line prophylactic medication treatment recommendations (Kaiser Permanente 2018):
Beta Blockers: reduces blood vessel dilation decreasing recurrence of migraine. Examples include propranolol, metoprolol and timolol.
Antiepileptics: calms hyperactivity in brain reducing recurrence of symptoms. Examples include topiramate or divalproex DR
Antidepressants: helps maintain healthy serotonin levels preventing increased risk of migraine. Examples include nortriptyline or amitriptyline.
(Calcium channel blockers and ACE inhibitors can also be used, but are not as commonly used)
2nd line prophylactic medication treatment recommendations (Kaiser Permanente 2018):
Occipital nerve blocks: a combination of Marcaine and lidocaine medications are injected along the occipital nerve pathway on back of head. Relief can be immediate.
Botulinum toxin (onabotulinumtoxinA): series of injections into different muscle groups to reduce intensity, frequency and severity of headache symptoms.
Anti-CGRP monoclonal antibodies: blocks pain receptor to brain. These medications are given by injections either on a monthly or quarterly basis. Examples include erenumab-aooe, fremanezumab-vfrm or gacanezumab-gnlm.
Calcium gene-related peptide receptor antagonist: Blocks the pain signal to the brain. This dissolves on the tongue.  Example: Rimegepant. (This is only medication used acutely or as a preventative).
Medication is not the only way to treat migraines, there are also complementary/alternative medicine options.  These include acupuncture, biofeedback (electrical sensory treatment), cognitive behavioral therapy (psychological therapy), mindfulness (breathing exercises, and guided imagery to reduce stress), yoga, relaxation training, and natural supplements.  Some examples of supplements that have been shown to help with migraines are riboflavin, magnesium, vitamin D, zinc and melatonin.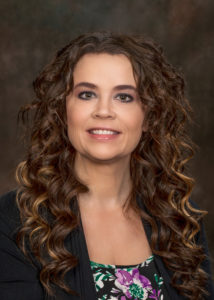 Often, a combination therapy regimen is needed to prevent or manage migraines. This is when health care providers navigate through the process to develop an individual plan for the patient. It all starts with an exam. Remember, you are not alone. Reach out for guidance to start your journey towards taking back control and living life again.
Kimberly Lopez, APN is an advanced practice registered nurse who joined Bond Eye Associates in 2021. She has over 5 years' experience diagnosing and treating acute and chronic pain in addition to 6 years as a registered nurse here in Central Illinois. Kimberly is currently accepting new patients in both Pekin & Peoria, IL.  Please call Bond Eye Associates to schedule your headache consultation with confidence knowing that they have been a trusted, locally owned, medical practice for over 40 years at 309-692-2020 or click here to schedule.
References:
Cleveland Clinic, (2021). Migraine Headaches: Causes, Treatment & Symptoms (clevelandclinic.org)
Kaiser Permanente Washington (2018). Migraine and tension headache guideline (update 2021), 2-15.
Noseda, R & Burstein, R. (2013). Migraine pathophysiology: Anatomy of the trigeminovascular pathway and associated neurological symptoms, cortical spreading depression, sensitization, and modulation of pain. Pain, 154(1), S44-S53.
Weatherall, Mark W. (2015). The diagnosis and treatment of chronic migraine. Ther Adv Chronic Dis. 2015 May; 6(3): 115–123.
WMBD-TV, (January 2022). click CIProud.com to follow link to original interview.