As Halloween approaches many are still trying to decide what our costume is going to be for this year. While most enjoy the fun of changing our appearance for a day, we still must keep the health of our eyes under consideration. You may have seen the advertisements or have known someone with the decorative Halloween contacts. These can change your eye to give them the appearance of a cat's eye, a zombie or have some crazy colors and patterns. They can make your eyes look cool and fun but they are not healthy for your eyes.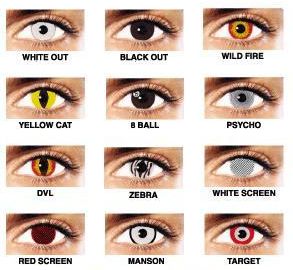 The FDA classifies all contact lenses as a medical device that require being fit by an eye care professional. This is because each one of us have different curvatures to our cornea, which is a clear dome shaped layer that protects the iris and the pupil. Other factors to consider are your contact lens needs, such as astigmatism correction and lens thickness. Contact lens manufacturers have taken all these factors into consideration and have created numerous modalities, base curves, diameters, and thicknesses so that eye doctors are getting the best fitting contact for your needs and making them comfortable for you to wear.
The danger with these decorative contacts comes from the fact they are designed for cosmetic purposes only. They don't offer correction to your vision and they don't provide the proper fit for your needs. The CDC also informs us that buying contacts without a prescription, which includes your vision correction powers, brand and parameters, is illegal.
The FDA and the CDC warn us of the following risks involved with decorative contact lenses: corneal abrasion, corneal ulcer, allergic reaction to the lens, decreased vision and infection. I know I used a few technical terms such as corneal abrasion and corneal ulcer, so let me break down the meanings. A corneal abrasion is simply defined as a scratch on your cornea. As I stated before, the cornea is the clear part of the eye that protects the iris (colored part of the eye) and the pupil. If the contact lens does not properly fit the curvature of the cornea it won't settle correctly causing movement, and/or a lack of oxygen transmission. This movement can often cause a corneal abrasion. If you begin to experience pain in your eye that does not get better when you close it and light causes it to sting or burn, you could have a corneal abrasion and you would need to get into your optometrist or ophthalmologist to get treatment.
Next, a corneal ulcer is defined as an open sore on the cornea that is most often caused by a bacterial infection from contact lens wear or from a corneal abrasion. An ulcer does share some of the same symptoms as a corneal abrasion. Severe pain, sensitivity around bright lights, eye is red, swollen eyelids and feeling as though something is in your eye, even when the contact lens is out. Blurry vision, discharge from the eye or producing extra tears are also some of the signs that could hint towards a corneal ulcer. Should you experience any of these symptoms, you should contact your optometrist or ophthalmologist and get in to be seen.
If you are looking for an alternative to add that extra little bit of character to your costume, one of our optometrists would be happy to talk to you about the possibility of fitting you in some colored contacts that will also allow you to have your vision corrected. The additional benefit to being fitted in colored contacts with your prescription is that they allow you to enjoy them for more than one day a year!!
With all of this said, the healthiest solution to adding that little bit of mystery to your costume is to dress yourself up with some glasses. Geek chic, bold and statement making glasses are a great accessory to any costume. Styles varying from cat eye to round to bling will add funk, flare, charisma, attitude and overall character to your Halloween identity. This fun alternative also allows proper oxygen transmission to your eyes and reduces your risk of infection, corneal abrasions or ulcers.
Please call Bond Eye Associates to schedule your yearly health vision exam with confidence knowing that they have been a trusted, locally owned, medical practice for over 40 years. They are accepting new patients in both of their locations: Peoria and Pekin, IL.  Please call 309-692-2020 to schedule an appointment or click here to request an appointment.