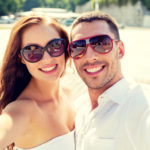 New Optical Products at Bond Eye Associates!
This just in….Essilor®, one of the major lens providers for Bond Eye Associates, is launching TWO NEW products in the coming months!
The 1st one is exciting for us sunglass wearers…and who isn't—if you aren't, shame on you—there will be 6 new polarized lens colors: gray mist, sienna brown, forest gray, grape, plum, and emerald blue.